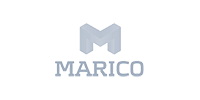 Marico Ehitus is a very busy construction & engineering company. Since their establishment in 2011, they have worked with tens of projects. Among their accomplishments is work on several modern shopping malls, factories, residential buildings and even the Eesti Rahva Muuseum.
However, after years of busy and efficient construction and engineering work, Marico saw that there is a hidden issue. With over 50 professionals working on a variety of projects year-round, time tracking was turning into a nightmare:
Countless paper forms
Assorted Excel spreadsheets
Double and triple time entry
Every. Single. Month.
It got especially bad for workers, who rotated between various construction objects. The situation brought extra grief to accounting team, as they had to decipher all kinds of notes and peculiar documents. Figuring out mundane things like overtime was becoming a problem.
"Not only did managing paperwork eat away at the time of our experts, but we started struggling with getting a precise and clear overview over construction objects," explains Ivar Ruhno, Marico Ehitus OÜ supply manager.
Marico Ehitus management took a strategic decision to get rid of Excels and papers in time tracking. They started a search for a solution, which would reflect their company values: it had to be lean and efficient. Also, since a large part of their team was mobile, time registration had to be very convenient and accommodate for various entry forms. After surveying the time tracking software market in Estonia, Begin emerged as a clear winner.
"We have completely eliminated double-entry of timesheets and drastically reduced the time our managers have to spend on administration. Our accountant is also happy to be able to get required attendance information from one source," says Ivar. "We have time tracking devices on various construction objects and some of our employees use the mobile app. Real time overview makes it much easier to analyse time spent on different projects, make cash-flow forecasts and invoice customers."
Marico Ehitus also enjoyed cooperation with Begin's support. It really mattered in the early days, when system was new, as Begin support was quick and efficient, always friendly and there to help.
"Many of our customers are successful companies, who are, well, just really busy being successful. So, it often comes as shock to management, when their workers become agitated and annoyed, saying things like "I am doing my job, why do I have to waste time on extra paperwork?!" Comments Roland Prii, Begin OÜ time management expert. "Time tracking done well can boost motivation and efficiency, but, if left unattended for too long, can snowball into a real problem. Fortunately, Marico Ehitus got Begin just in time to avoid getting into too much trouble. I'm happy that we could help them."
Is your company still using Excel and paper for tracking employee attendance? Is your accountant neck deep in faulty timesheets at the end of each month? Contact us today!